One app will revolutionise your workflow and scan experience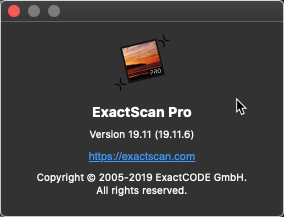 I was really annoyed about Fujitsu with their new scan software...
My nice ScanManger for my ScanSnap was a pretty nice app which served me over years within my workflow. But with the new operating system for Mac there came the new architecture 64bit along.
According to the latest news about Catalina apps which run on a 32bit architecture will not work anymore. Therefore, I thought it is a good idea to try the latest version of Fujitsu's scan app out.
But with the installation came the first of several shocks:
My ScanManager app gone for ever (at least I got a backup)
only their cloud services?
Finally, my ScanSnap had some issues with a licence?
What for licence anyway?
Well to find out some information about this licence issue I have googled without avail. After several days of only searching for a hint how to solve this issue I have found out, that the serial number of my ScanSnap is the issue. Good for me, I have found a telephone number in Nurnberg, Bavaria of a subsidiary of Fujitsu. After calling them, they explained that my the serial number of my ScanSnap has not been transferred to their new software. Brilliant!
The lady of the other end of the line told me this and set my serial number up to run with the latest software. Well, if you run in a similar issue and live in Germany, do not hesitate to contact them by calling 0911/8957837 and let your serial number being transferred to the latest software.
Ok, that was sorted now but this cloud-thingi drove me made. I do not want to put my "secrete" PDF files to any cloud but my own.
In my testings it turned out, that:
The latest software got fewer features than ScanSnap-Manger
I have no clue, why they decided to make the latest software worse than the previous was but I believe it had to do with their cloud services. Nice, to have all your scans in Fujitsu' cloud and maybe pay for cloud storage. I do not think, it is an improvement after all.
Many feature were just gone with the wind: All my connections with DEVONthink or Hazel gone forever. I was really upset to find out, that my connections with other apps like directly import to DEVONthink or to save the scans into my folders were also gone.
Nothing could be done now, except to get rid of this nagging popup: Please sign up for our cloud.... No, no, no that it nothing for me at all.
Luckily, I had a backup of the old version but it had this huge issue: 32bit! If I liked it or not, I had to look for another scanning software which runs on 64bit to be ready for the future...
Searching for alternatives
Well, it took me ages and loads of testing of software. I was really tired of installing - testing - deinstalling because the apps/software did not fit my requirements. Thought, they were not that fancy at all.
After a long journey of trial and error I have found a company in Berlin which provides a scanning solution.
I was really desperate to find a solution soon as October 2019 approaches soon. Surely, I could connect my ScanSnap directly to DEVONthink 3 but what I wanted is my automatisation of my workflow. My requirements on a software were:
Tags
Read from OCR and process according to my rules
Move documents to the correct folder within DEVONthink
Stamp the scan with a phrase like "Scanned on:" current date, time
Put a whole batch of documents just into the scanner and separation of each will be done automatically.
Was that really too much to ask for?
Testing of ExactScan...
Unbelievable - my first impression was! So many possibilities - so many scanner supported. I did not hoped for so much more to gain than ExactScan can offer.
I like to point out, that ExactScan is not (yet) a partner of Steffi's Cloud - but may be at some stage they will - I am looking forward to any response and think you would too.
UPDATE: ExactCode is partner of Steffi's Cloud since the 13 January 2020! I am proud to have ExactCode on board!
Therefore, all links within this article are marked as (ads); thought I would not get a penny. But I really do like to share my experiences with you as I am convinced, that ExactScan is the right software for you too and your future workflow enhancement.
Anyway - I have started the testing with my plan in hand:
What does the software offer?
With which scanner is it compatible?
What's about 64 bit - especially with Catalina (Version 10.15)
Are there profiles, which I can choose before each scan?
Which type of scans can I make?
Are there any stamps for my "Scanned on" current date available?
Batch processing with a barcode (I really do like barcodes) or at least with a separation sheet
OCR in several languages (German, English)
File all my scans to my Own Private Cloud (OPC) for further processing
Support should be swift, fair and multi-lingual (German and English would be fine)
That was my test plan and I was really astonished that I could find all points and much more with ExactScan. All my testing went seemlessly into my current workflow on Mojave and Catalina! Pretty cool!
What does the software has to offer?
First of all, I really like the profiles very handy which can be applied to every scan or batch of scan.
Surely, the question is always what your needs for your workflow are. However, with ExactScan it is really easy to adapt to your workflow:
Profiles for each scan
OCR in several languages
Individualised watermarks can be applied
Positioning of watermarks (right, left, top, bottom with exact measurements and preview)
Transfer of the scan to another application, like DEVONthink
Save of your scans in folders of your choice for further processing
Naming of each scan individually
Batch processing with barcode and/or separation sheet (latter will be deleted automatically)
Quality of scans can be adapted to your needs
Stop scan to ask for more pages to be scanned within one document
Scan to different format such as PDF, compressed PDF, high-compressed PDF, JPEG, TIFF, PNG, RTF, HTML or as plain text
Adjust the ADF (only one site or both)
Adjust colour features and resolution of your scans
Calculation of the file size and recognising empty pages
Print directly to your favourite printer
Optimise Black/White, inverted pictures for front and back site of each scan
Change contrast, gamma and Whitepoint as well as saturation
Create barcodes which are searchable
As you can see on this "tiny" list, ExactScan has loads to offer and the easiest way to find your perfect scan is just to try several settings. ExactScan makes scanning and processing easier than ever before.
Compatibility of scanner
to be honest with you there are thousands of scanner which can be used with ExactScan.
Does not matter if you own an Epson, ScanSnap, HP, Canon, Brother, Fujitsu, Kodak, OKI, Panasonic, Raven, Visioneer, Xerox, Kyocera, Lexmark all and more of them will work with ExactScan.
A full list of all scanners can be found at the website of ExactScan(Ads) ; Please have a look at the endless list of supported scanners compatible with ExactScan and see if your current scanner will fit List of all scanner (Ads).
64bit for MacOS Catalina
ExactScan applied the 64bit architecture years ago and therefore, it is ready for the latest version of MacOS. It works without any issues and scanning will fun - not work anymore!
The interface of ExactScan
Just start ExactScan and you will see how easy you can set up your next scan:
On your left you will find all your profiles and you can add some more to your likings. The best way is just to try the given profiles out or create your own profile within the interface.
All settings are self-explanatory and are easy to adjust. Sometimes, you will need to test several settings in order to get the result you want. ExactScan(Ads) will adapt to your workflow and not the other way around.
For certain, it all depends what you want to do with your scans afterwards. If you want just to archive things, you can set a lower resolution than applying OCR. Personally, I like to have an OCR done by ExactScan then placing into a folder which will be watched by Hazel. Hazel will then scan through the OCR and extract some strings which will tell Hazel what to do next with the document. It could be to rename the entire document to my preferences and/or to tag and put them into the correct database structure within DEVONthink.
Moreover, I really try to automatise 100% of all scans without any interaction but 100% is a very high score. Currently, I have 90% of all scans automatically done and only 10% need some adjustments. But that are 10% next to 90% which saved me a whole day?
My current workflow to get paperless is as follow:
Inbox for any documents, such as letters

Each of them get labelled with a small barcode which tells what it is, ie. private or business stuff or if it is an invoice or a delivery note.
Everything will be scanned in one single batch using my ScanSnap

I just put every on the scanner and that's it.
Then ExactScan will do the remaining of the scan process for me:

All documents will be separated and a watermark will be applied to all pages. After that, the scanned file goes directly to an inbox folder.

In my opinion, the watermark is essential especially if you do business in Germany and the tax man will really like to see that everything in the workflow is stamped and dusted.
ExactScan will save all my scans

All documents goes then to my Hazel folder and Hazel will do the rest like reading the whole OCR and look for pattern which I configured upfront like tags etc. Then Hazel will tag all documents and sort them into the correct folder for DEVONthink.

Everything goes automatically - except the above mentioned 10% which lands into a separate watching folder. Done, and dusted - time is money...
Within DEVONthink3

All documents get another stamp when it was imported in DEVONthink 3 and so I can be assured, that the entire workflow can be controlled by an authority like the tax man.
Yes, I know about the versioning in DEVONthink...
... therefore, I use additional - only for business purposes - EcoDMS which runs on my own cloud under a linux distribution. My workflow will forward any business document directly to EcoDMS for archiving without loosing any time.
If you are interest how to do a revision-save paperless office, then just leave a comment below. I support you on your way to your paperless office, which can will be approve by the authorities.
Done! Within my workflow, ExactScan helps me to be productive and moreover efficient (German efficiency is imporatant). I do not have to scan one by one document or sort them by whatever. Time for more coffee or a cuppa ....
Filing in ExactCode
Here, you will find all basic settings for your scan such as:
Profile name
Path to save your scans
Name of the scan with current date, hour and much more
Unique ID for each scan and/or asking you for a name of the scan
Data types from PDF to JPG, PNG or plain text
Separation of pages after a certain number of counts
Quality of scan
Open you scan in your favourite app, like DEVONthink 3
Show scan progress.
Basic settings
All settings for your scan and how it should be look like. Furthermore, adapt the ADF for scanning both sites or only one, colour scheme and resolution as well as:
Paper size
Cut or adjusting of scans
Tell ExactScan where exactly it has to cut with coordinates of your scanning page
Rotations of your scan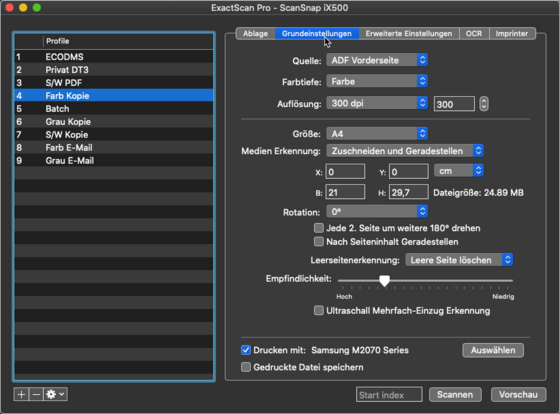 ExactCode ExactScan
Recognising of empty pages and what shall happen to them
Ultrasonic for each page
Print directly after scan is done to your favourite printer or print it to a file
Indexing and preview of your scans to be done
Calculation of estimate file size of your scan
Advance settings
Here you can get really "crazy" with the appearance of your scan and how it should look like. The advance tab is full of features which are a hightlight of ExactScan.
Some of them are:
Remove print grid
Get black/white optimisation
Invert pictures and much more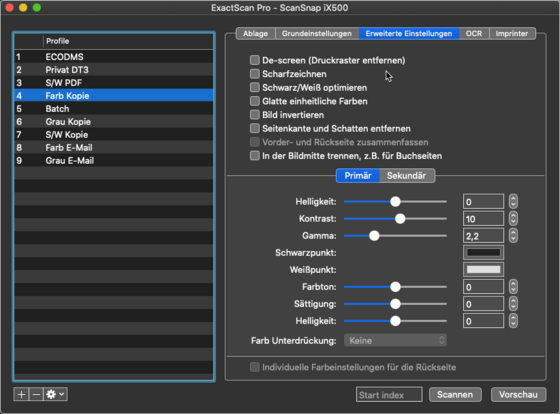 ExactCode ExactScan
Adjust colors of fron and back sites
There is are many of settings which you can apply depending on your use cases.
OCR and barcodes
Settings for searchable documents in several languages are possible with ExactScan.
Even searchable barcodes can be created or read by the OCR engine for later usage in your workflow. Documents can be separated using barcodes with specific words or phrases. Barcodes can have the format of UPC, EAN, Code 25, Code 39, Code 128 and more.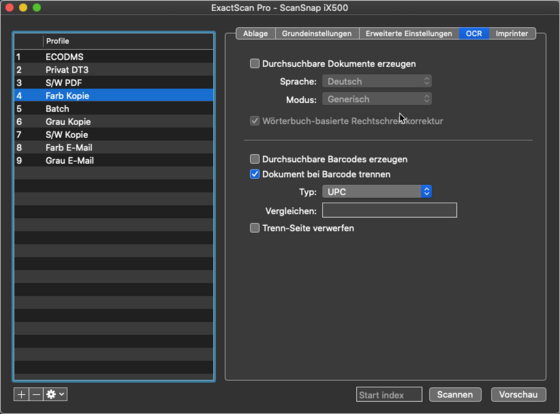 ExactCode ExactScan
If you prefer a separation sheet - yes that is also possible - your scans will be separated and the separation sheet will be deleted from each scan. How cool is that?
Watermarks
Set automatically watermarks on each site of your scan, such as "Scanned on:" current date, hour, minute etc. and/or adjust your text of your watermarks with ease.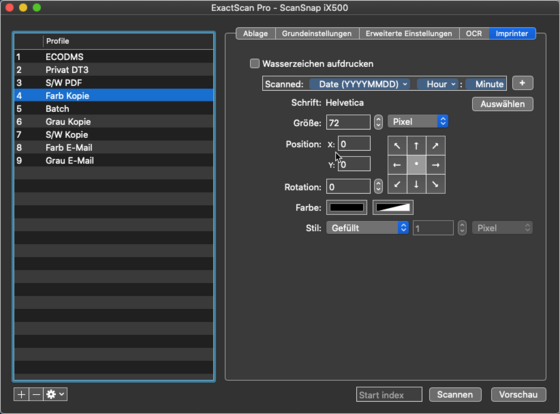 ExactCode ExactScan
Change the font, font size and the geometric position of your watermark as well as the rotation on each site. Adjust colouring to your needs. I really recommend to try it out and see what will fit your workflow and your needs.
System settings
Well, this is the easiest thing ever done. How often shall ExactScan search for updates and if you like to have a backup file as well as what shall happen after OCR is done with the original.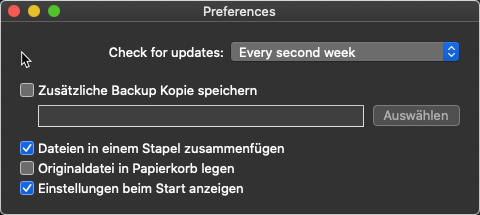 ExactCode ExactScan
Support
Trust me, the support is just awesome! You will get an answer in German or English mostly at the same day you have send your request. The developers are very helpful and friendly - this a 1A-Support class!
Now, you will be eager to test ExactScan ?
It's easy: Just download the trail version of ExactScan and test it within your own workflow. Take your time with all those settings which can be daunting at the start. If you like to buy ExactCode you can do so directly form the developer's website who is located in Berlin.
One thing I like to point out: The version of ExactScanPro(Ads) contains already the OCRKit, which can is sold separatly. That means, you do not have to purchase both. I really recommend the Pro-Version as it gives you the flexibility you really need for your workflow for today and for the future.
ExactScan can be downloaded as Test version directly here(Ads).
If you need some help with your trial or full version, just contact the developer team by support@exactcode.com. Just send an email and most of the cases you get a response at the same day. Surely, it depends on time zones too. But just try it out and see for yourself.
May be ExactCode(Ads) will be a partner of the Own Private Cloud (OPC) once a day - I really would appreciate this and think you would too. So, we can look forward to a bride future without doing too much boring work.
Finally, I really think ExactScan is one of those software which made your day and save you tons of time for boring stuff like scanning - for now and for the future, as it is already ahead the time.
If you have any questions or like to share your experiences with ExactScan please leave a comment below or join the community of the Own Private Cloud.
In the meantime, I hope you will enjoy testing ExactScan and I am eager to hear about your experiences with ExactScan.
Best,
Steffi.