ZoomNotes: Update 8.1.6 brings continuous scrolling and more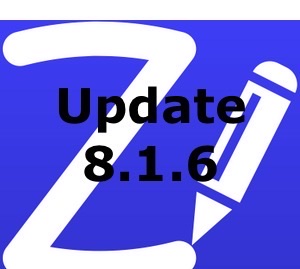 The latest Update of ZoomNotes comes with a vast amount of new features and stability improvements.
Some function are not obvious but will increase your productivity.
Continuous scrollen available.
Now, you have a new icon in your toolbar which you can use to scroll continuously through your notes with out having the "bumpy road".
You can invoke this new feature by pressing longer with two fingers on the screen. So you can switch it on and off. Further to this, the new icon can be used in order to switch the feature on/off.
Already introduced was the horizontal and vertical scrolling with the previous update which makes your live much easier.
The icon can be found here:

ZoomNotes Update 8.1.6 Toolbar

Tripple tap gesture
With the tripple tap gesture you can be more efficient than ever before. Just assign an action to it (Settings - General - Tripple tap) and use it system wide.
Search and finde
This feature is under ongoing development and gets improved nearly with each update. Now, you can find your text much faster in PDF files
Calendar/Planner
As you know, you can create your own planners within ZoomNotes but now you can have a tab to go to your daily, weekly or monthly pages in one go. Just create a planner and switch on the available features. You have never created a planner with such a speed!
Export or PDFs
With this update you can easily export your handwritten notes into PDF files. Well, that was already possible before but now it will keep your handwritten notes searchable. So you can search with other application in your handwriting.
German translation
I worked hard to get the translation ready for the latest release but now it's done.
Thanks Ed for mentioning me in the AppStore! You are awesome!
If you see any issues or something that needs to be corrected so please let me know.
Fill with transparency
A new feature which enables you to get your stickers, photos or pictures etc. in one go into ZoomNotes and get it filled with the background or take the background off altogether. Now, you do not need the magic eraser anymore but use this new feature to get transparency into your notes.
This saves you really time!
If you need more information or help
Then you can contact me or join one of the Facebook groups available for ZoomNotes. In order to join just search for ZoomNotes and (currently) three groups are available:
ZoomNotes Beta Tester
ZoomNotes Unofficial Help
ZoomNotes I did it with ZoomNotes.
The first two groups are helpful resources for beta testers and getting help from other people, Ed or I. Here you will learn a lot of ZoomNotes and how to adjust settings to your likings.
The third group is about how to use ZoomNotes in practise and what other people do and create with ZoomNotes. Here you can loads of impressions of use cases of ZoomNotes. If you a creative person you will find loads of information there. Even if you like me- not that good in creating - you can learn everyday something new.
I do not like Facebook but for ZoomNotes, I have joined the group in order to help people. All collected information will go straight into the development of ZoomNotes.
So, if you already have a FB account then join us today! If you would like to have a German group - we can do this depending on how many people would like to join.
I hope, you really will enjoy the new update of ZoomNotes. If you have any question please let me know and write a comment below or send me an email (info@steffiscloud.de).
Really looking forward to hear from you!
Best regards,
Steffi.